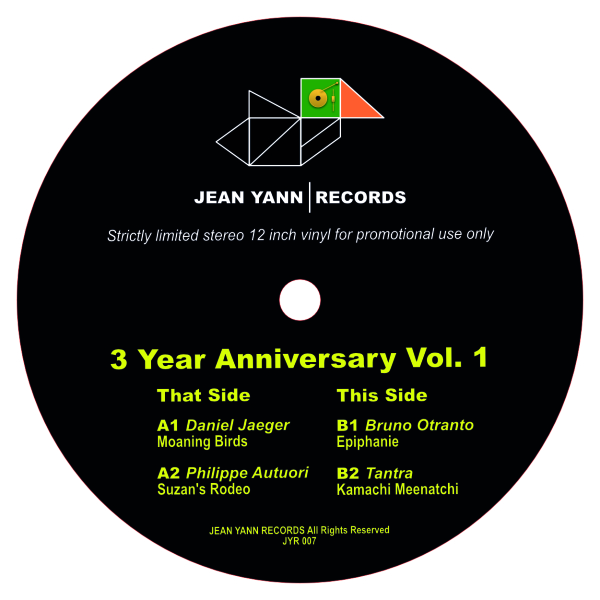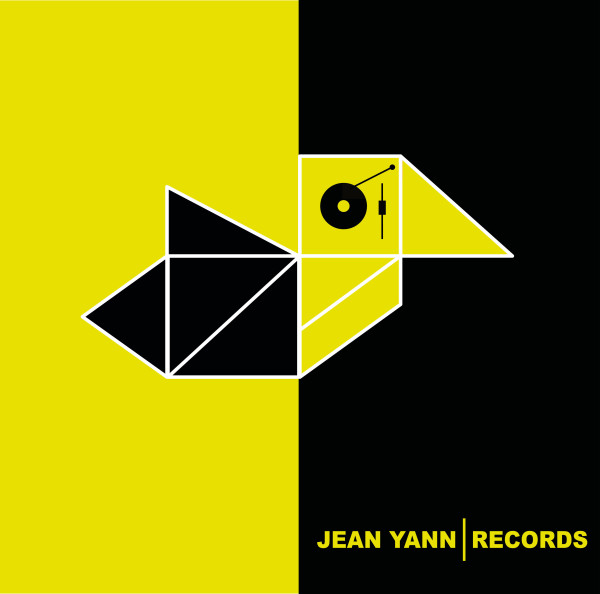 Various (D. Jaeger, P. Autuori, B. Otranto, Tantra
3 Year Anniversary Vol.1
Jean Yann Records
Log in to see price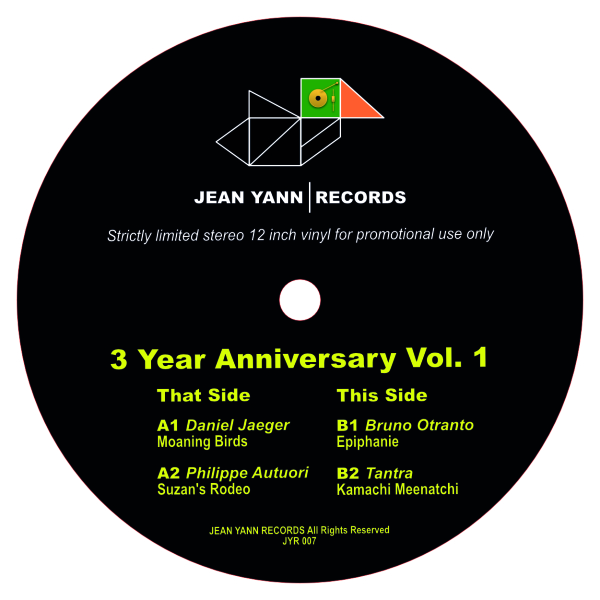 description
Launched back in 2015, Jean Yann Records celebrates its 3rd anniversary with a vinyl only compilation definitely dancefloor oriented. The EP features 4 exclusive tracks from Daniel Jaeger, Philippe Autuori, Bruno Otranto, and Tantra.
Daniel Jaeger opens the dance with "Moaning Birds" a dub infused melodic track driven by synthesizers and a deep dark bassline. With releases on Bar25 and Heinz Music, the member of the Berlin Criminal Bassline collective offers once again a well-rounded Tech House piece for all dancefloor aficionados.
With early releases on Steve Bug's label Poker Flat and Hypercolour, Philippe Autuori delivers with "Suzan's Rodeo" a groovy track powered by a bassline that evokes racing horses. The mysterious race takes a sharp turn with the apparition of deep chords coupled with a powerful acid synth lead. This electronic rodeo is the perfect soundtrack to make our inner dormant horses dance.
On the B-side, Spanish artist Bruno Otranto from Monog Records enters a progressive territory with "Epiphanie". Built on a terrific acid bassline, the track is propelled by hypnotic chopped vocals and a straight up beat. The musical arrangement turns the spell into a charm offering listeners an epiphany of rhythm and sounds.
The duo Tantra close up this compilation with "Kamachi Meenatchi" a captivating and intriguing track in their own style, a unique blend of deep Tech House and East-Asia influences. The "Tech On Sunday" promoters drop with this track a bomb guaranteed to send festival floors into a trance.